Gene Dante Gets Personal at Jacque's Underground Cabaret
The Boston Phoenix
Glitter Bomber
By: Jonathan Donaldson
August 29, 2012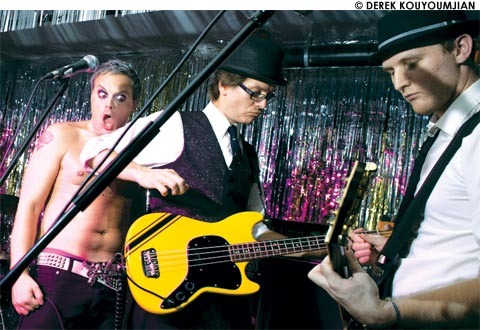 **Show Photos**
Following the directions to this special private set by Gene Dante and the Future Starlets was a lot like following a scavenger hunt. First, meet at Jacque's Caberet (the Boston drag club) at 9 pm on Friday, August 17. Then, tell them you're there to see Gene.
"Sorry," said the blond doorman with a Russian accent. "Downstairs is completely to capacity." That might have been a sad reality for others, but luckily not if you were on the secret special press list, which I was. Score one for the square guys. The small downstairs scene at Jacque's was suitably glittery, dark, and grungy as the long-time rockers took to the cramped stage, while their own "Showtime" — a track from their forthcoming release (details TBA) — played over the speakers.
The Starlets would promptly go on to mix five more new tracks into their 15-song set, all sung with campy aplomb by Boston's favorite glam dynamo, Gene Dante. Dante, for those who haven't seen him before, sang his ass off in his predictable fashion in flashy chest-rhinestones and silver hair-paint. Dante had very little room to prowl, but watching him suggestively gesturing and comically leering at his nonplussed bandmates made for more than enough extra entertainment.
Set highlights among the new tracks included the Rocky Horror–esque "Pigs in the Powder Room" (which actually reminded me a little bit more of the Electric Mayhem than anything else). Also "We Are All Whores," which made for a great sing-along by finishing the couplet with "Behind Closed Doors." Leave it to Dante to make the best new rhymes.