Gene Dante Finds Himself (Again) in 'Hedwig'
The Boston Globe
James Reed, Globe Staff
June 5, 2011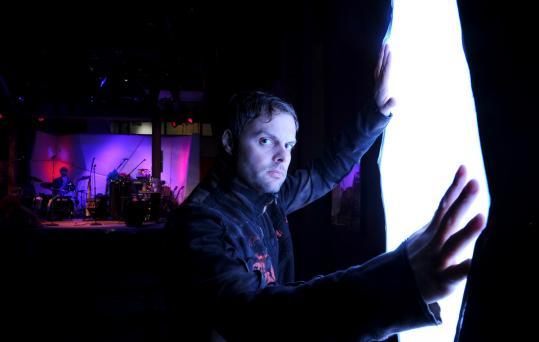 "I relate to [Hedwig] because I'm trying to create a spectacle and a circus on a shoestring budget in my life,
and Hedwig does that in her show all the time," says Gene Dante, shown at the Space Gallery
in Portland, Maine, after a rehearsal. (Photo: Fred Field)
Gene Dante has tried on this feathered blond wig before. He already knows how to apply the glittery red lipstick that will get smudged later in the show. And the accent — that of a down-and-out, transgendered German rocker — is still spot on.
But when Dante stars in a new production of John Cameron Mitchell's beloved rock musical "Hedwig and the Angry Inch,'' which comes to the Fenway restaurant/club Church later this week, he'll also bring a deeper understanding of the title character.
"He brings nine years of being a frontman in a band,'' says Lisa van Oosterum, Dante's manager who also plays his costar, Yitzhak, in the show. "I've seen other Hedwigs that have a lot more anger and more sadness, and that creates distance for the audience. He really invites the audience in to be friends with him. And I think that's because of all the years of him putting himself out there as Gene Dante.''
Dante is an anomaly in Boston's music scene: an artist who has refused to pigeonhole his talents. Yes, he's a singer — and quite a good one, with a laconic croon reminiscent of Bryan Ferry and Lou Reed — who fronts a glam-rock band called Gene Dante & the Future Starlets. And yes, he's an actor, but he's never defined himself strictly as one or the other.
"I always say, 'I'm a singer who can act, not an actor who thinks he can rock,' '' Dante says recently over dinner in Cambridge. "I can carry a tune, I can sell it, and I can write a song. But if I were to say where my passion lies, it's a live concert.''
That makes Dante even more suited to play a character like Hedwig, who often finds salvation in the songs she sings before her fans. At a recent performance in Portland, Maine, Dante was fully immersed in the role when an audience member started to slur punch lines before Dante got around to delivering them. Dante was quick with a quip and a wink of his mascara-lined eye; like that, the would-be heckler was silenced. That's a trick Dante picked up from dealing with live crowds at his band's shows.
This new production of "Hedwig and the Angry Inch,'' which will be staged at Church June 9-11, is a reprise for Dante and van Oosterum in the musical's lead roles. In 2002, they performed the show for nearly a month at the old Institute of Contemporary Art and then another six weeks at the long-gone club Axis. (The show migrates to the Provincetown Theater on the Cape July 16-30.)
Since then, local audiences have come to know Dante through his various parts in Ryan Landry's plays, starting with "Cinderella Rocks.'' His deliciously vampy performance in "All About Christmas Eve'' was particularly memorable. Dante made his character, Lloyd Richards, a loving send-up of fey '70s personality Paul Lynde.
Landry, a fellow rock 'n' roller at heart who also moonlights with his own band (Space Pussy), says his connection with Dante was immediate when they performed together in the same local production of "The Rocky Horror Picture Show'' nearly 15 years ago.
"Gene is one of my dearest friends in the world, and I depend on him for so many things,'' says Landry, adding that Dante's musicianship has obviously informed his talents as an actor with Landry's Gold Dust Orphans theater troupe. "He knows beats and rhythms, and our stuff is very rhythm-oriented. If it's off, it doesn't work, and Gene realizes that.''
Like a rock star, Dante is also keen to build some mystery around his background. He slyly brushes off a question about his age — "I'm over 21 but under 40,'' he offers, smiling. Likewise, he prefers not to divulge too much information about his upbringing, sufficing to say he was raised just outside Boston. "I don't want any stalkers,'' he says.
If that sounds like something Hedwig might say, it's no coincidence. Dante has found a lot of common ground in the character that's given him the most exposure.
"I relate to [Hedwig] because I'm trying to create spectacle and a circus on a shoestring budget in my life, and Hedwig does that in her show all the time. She's not playing the Colonial Theatre or the House of Blues,'' Dante says, alluding to big venues in the Boston area. "She's playing T.T.'s, P.A.'s Lounge, and Precinct on a Wednesday.''
Dante and his band have recorded a full-length debut, 2008's "The Romantic Lead,'' and would like to make another one soon. In the meantime, they keep busy with the occasional gig. Again, the parallels to Hedwig's narrative are hard to miss.
"Hey, we're doing Boston Pride [the city's gay-pride celebration] this year,'' he says, tongue firmly in cheek. "I think we're opening for Niki Haris, Madonna's former back-up singer. Now is that a Hedwig gig or what?''